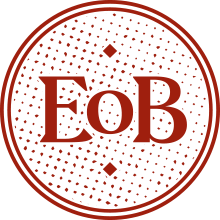 Made in the U.S.A., Inspired by the World.
Ears of Buddha is a clothing company from designer Franny Koelsch. With a background in fashion design and an active presence in the Texas art scene, Franny pulls inspiration from her surroundings and life experiences.
The seventh-generation Houstonian prides herself on manufacturing her Ears of Buddha shirts, embellished with hand-embroidery and other hand-details, in small batches in an atelier in her hometown.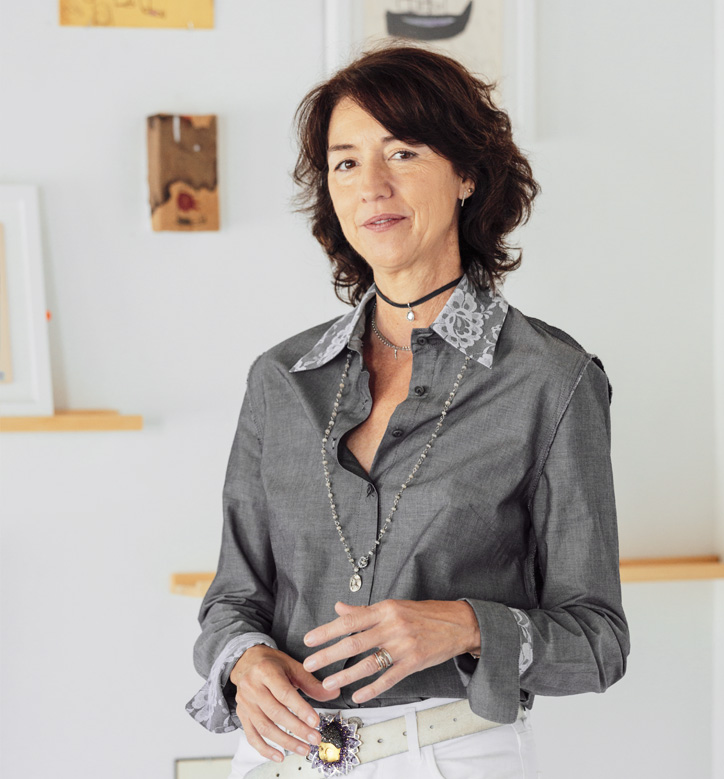 the details
The Ears of Buddha collection is mindfully created from sustainably sourced high quality fabrics that are unique and influenced by art. The finely observed, nuanced details within the EoB collection offerings — carried forth in careful tailoring, bearing distinctive style categories inspired by iconic women, often alongside touches of embroidery featuring world symbols — signify that Ears of Buddha are more than mere shirts.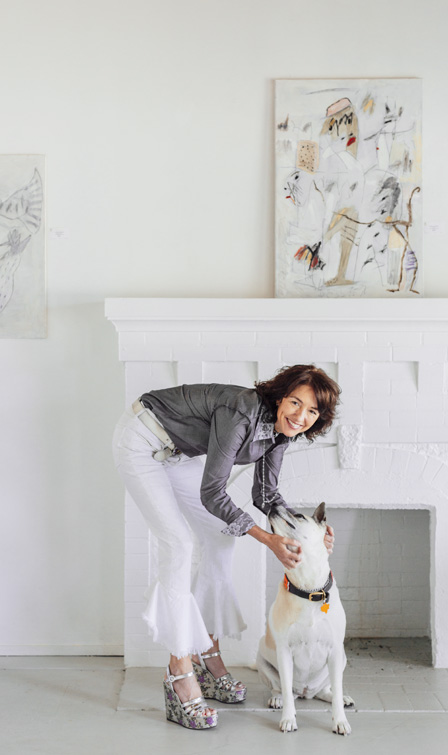 truly unique
We daresay each Ears of Buddha shirt possesses a certain attitude — an understated confidence informed by beauty and polish, that like its maker, is self-assured and strong, while not forsaking the feminine. 
And like its designer's background — a dance between a fashion career and more than two decades as a gallerist — an Ears of Buddha shirt becomes more than a closet filler. It's a functional, beautiful, and beloved garment, one that has its roots in the art world. 
An Ears of Buddha shirt purchase is more akin to acquiring, than simply buying.
Ears of Buddha in the news
---
- Fashion Week Online - Read the Full Article
Unless you've been living under a rock for the past several years, sustainability is the word of the decade in the fashion industry. Brands are committing to making their collections eco-friendlier in every way possible. Houston-based Ears of Buddha (@earsofbuddha) has been no stranger to sustainability since its inception.
The brand, conceived in 2016 and launched in 2017 by designer Franny Koelsch, has been inspired by Koelsch's presence in the Texas art scene and inspiration from her surroundings and life experiences, but for spring/summer 2021, the specific theme of the collection is sustainable and stylish. [...]
---
- Houston Chronicle - Read the Full Article
Ears of Buddha, Franny Koelsch Jeffries' small-batch fashion line, takes its name from a memoir by her late father. But the elegant-funky designs reflect her own life mix of high fashion and art made with found objects.
A seventh-generation Houstonian who studied fashion at the University of Texas at Austin, Jeffries began her career with the New York powerhouse Barney's, returning home as a manager of the company's Galleria store. Along the way, she met artists involved in fashion, started collecting quirky art and before she knew it found herself all-in, opening her first gallery 26 years ago. [...]
---
- PaperCity Magazine - Read the Full Article
The Most Arty T-Shirts Ever are Even Made in Houston
Gallerist Franny Koelsch Jeffries' credentials include more than two decades as a Houston art dealer at Koelsch Haus, her eponymous gallery located in a classic Montrose bungalow.
Now she rolls out her most personal project yet: Ears of Buddha, a collection of bespoke women's shirts that promise to be in the closets of every "It" girl in Texas. [...]